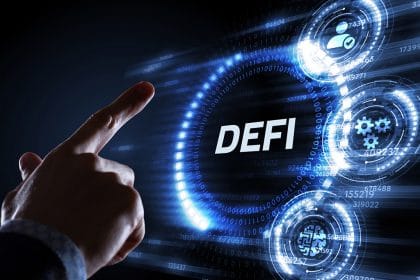 DEX aggregator Arken is ready for a new revolution in DeFi
Arken Finance solves the problems faced by other DEX aggregators and provides traders with a very smooth experience using premium tools.
As the decentralized finance (DeFi) market continues to grow, the demand for decentralized exchanges (DEX) has increased simultaneously.
The first DEXs were built in 2014, but these solutions only gained popularity when blockchain-powered DeFi services gained traction and the introduction of AMM technology helped solve the liquidity problems that DEX had initially. Today, platforms of this type can boast of increasing popularity. And one of the features that help DEXs attract users is the security of their funds.
On the other hand, centralized exchanges continue to fall victim to exchange hacks. We can see the recent example of Crypto.com which lost over 4,600 ETH coins last week.
As a result, investors are losing faith in these platforms and turning to DEXs. With more and more users preferring DEXs and the options are endless, the role of DEX aggregators becomes crucial. The concept of DEX aggregators is simple. These are blockchain-based services that help accumulate data from a wide range of DEXs, selecting the best possible exchange provider for a given token exchange, and facilitating split exchanges to offer the best prices. possible. The main purpose of DEX aggregators is to provide a range of financial tools for traders to find the most suitable results.
Arken is one such DEX aggregator offering best-in-class tools to traders. It mainly distinguishes itself from its competitors by its "speed", offering rapid tracking movements of thousands of tokens and thus allowing you to make investment decisions faster than any other platform.
Arken Finance offers a real-time trading view, aggregated from multiple DEXs. In short, it provides users with a single entry point to easily manage digital assets. Arken tools also provide 160 different technical indicators as well as specialized charts for advanced traders. This is why Arken is becoming one of the most recommended DEX aggregators lately. The main factors that differentiate Arken from others are:
Best Rate Swap Engine: Arken's automated system can find the best routing for maximum return by indexing the best price and auto-split order to minimize price impact. He will constantly reassess the price conditions and look for better alternatives. It also comes with other features like gas optimization mode, limit orders and price alerts.
Real-time trading view: This allows traders to analyze price movements and quickly decide to buy and sell at the optimal price. It also helps connect synthetic asset prices to real-world prices.
Advanced trading support: As mentioned, Arken provides 160 different technical indicators. This allows experienced traders to predict market movements.
Arken's Best Rate 3.0 Engine Upgrade
Arken Finance recently announced an upgrade to the "Best Rate 3.0" engine. This will make the protocol more competitive and efficient in the market.
In addition to splitting orders, the "Best Rate 3.0" engine will index the prices of multiple pools to find the best price among all. Additionally, split trades "go up multiple routes in a single transaction to make the trade do an even better price."
The major change brought about by the "Best Rate 3.0" engine is that it reduces fuel costs by 20-30% compared to the previous version. In addition, there is no longer a double exchange tax on tokens with tax. The upgrade will also ensure faster and easier integration of DEXs and pools, meaning the more DEXs integrated, the better the sources of liquidity. Speaking to CoinSpeaker, the Arken Finance team said:
"We are focusing on the sustainability of the project for the long-term benefits for our users. Our broader goal is to see the entire DeFi sector mature and grow with big, long-term plans.
The team is currently working on its primary goal of providing equal financial opportunity to every person in every region of the world.
P2p lending opportunities, high transaction speed along with the anonymity provided and improved security provided by DEXs are some of the key factors behind the rise in popularity of decentralized exchanges. The demand for these decentralized services can be seen all over the world, but developing economies, where not everyone has access to traditional banking services, are among the leaders in DEX adoption. Thanks to the fact that to start trading through a DEX a person only needs an internet-enabled device, we can try to predict that the same trend will remain with us in the future. At least for now, there is no reason to expect a decrease in interest in DEX trading from users.
following Altcoin News, Blockchain News, Cryptocurrency News, News
Bhushan is a FinTech enthusiast and has a good flair for understanding financial markets. His interest in economics and finance draws his attention to the new emerging markets of Blockchain technology and cryptocurrency. He is continually in a learning process and motivates himself by sharing his acquired knowledge. In his spare time, he reads thrillers and occasionally explores his cooking skills.