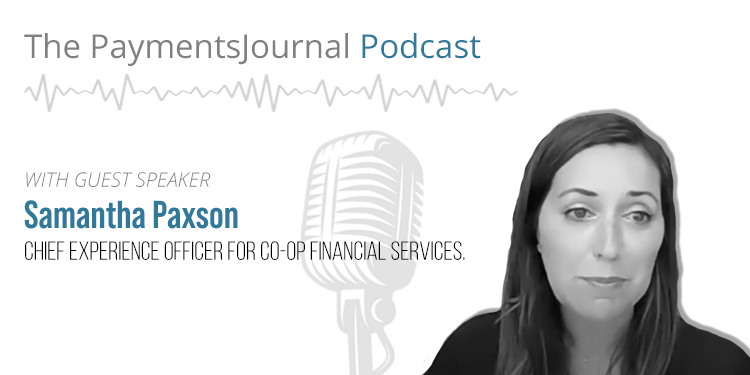 CO-OP Financial Services helps UC keep pace
Podcast: Play in a new window | To download
Due to the perpetual advancements in technology, the way people conduct their day-to-day activities is constantly changing. What once required a visit to the bank can now be done by snapping a photo of a check or quickly transferring funds from a savings to a checking account via a mobile app. While fintechs have been able to keep up and thrive in this digital environment, some traditional credit unions (CUs) and banks have found themselves lagging behind.
To discuss in more detail the digitization of credit unions (CUs) and how banks can use new technologies to better serve their customers, PaymentsJournal sat down with Samantha Paxson, Experience Director for CO-Financial Services. OP.
Payments Journal
CO-OP Financial Services helps UC keep pace
Payments Journal CO-OP Financial Services helps UC keep pace
UC go digital
CO-OP Financial Services is a payment provider for UA 3,000 and 60 million consumers, processing approximately 8 billion transactions per year. To better understand what CUs need to do to be competitive and where they should invest their time and money, CO-OP commissioned member-centric research.
In this study conducted by EY, consisting of 2,000 current members and 1,000 potential CU members, CO-OP sought to understand what drives the primary financial relationship, what choices within CUs have helped increase growth, and what was the market share commitment among this set of consumers.
The results were quite interesting. The results of a similar study conducted two years ago showed that consumers who are members of CUs and receive financial services from banks, fintechs, and wealth management providers were more engaged with CUs than traditional FIs. In fact, only 6% saw fintechs as their main financial provider. Now, 30% of existing CU members see their CU as a primary financial relationship, while 30% see a fintech in this role.
"The main takeaway is that we first, as credit unions, need to really understand our members and do needs-based segmentation to design for the member, just like fintechs do. The second thing is to migrate the numbers to have just a passive [relationship]- a savings account and a checking account – to an active relationship where they use the card every day for things like credit and debit card payments, or P2P [and] without touching [payments]Paxson said.
Do consumers still trust their banks?
It's no surprise that young consumers are turning to new technological payment solutions and the providers that offer them. However, the research discussed previously was conducted across all demographics, from Gen Z to the Silent Generation.
"We have to change our mindset [so] that it is not only [about] educate our existing members, "Paxson explained. "It is simply having the capacity to offer [solutions to] them and engage those members and meet them where they are. We need to be active as credit unions and aggressively put this at the center of our strategy. This will give UCs the ability to collect data and assess member behavior so that they can deliver bundled solutions tailored to their customers' needs.
In order to gain the trust of their members, CUs must prove that they are not only going to do what is in the best interest of the customer, but that they also have the capacity to act in those interests. This involves 24/7 access to services, including contactless payments, fraud alerts, money movements, as well as real-time understanding and personalization of digitally delivered solution sets. The more UC accelerates the intersection of human and digital delivery, the more accurately they can demonstrate their ability to deliver.
CUs need to take a proactive approach
Paxson believes data is crucial for improved communication. For example, a CU cannot know if a client is looking for a mortgage without having access to their data. Only by knowing a client's behavior can the loan team then know they need to engage with that person. This allows the team to extend personalized offers to the member, based on the insight pulled from the data and behavioral activities.
"Being proactive is so essential because the expectations of members have simply changed," said Paxson. "They expect us to deliver like Amazon [and] PayPal, and PayPal is the supplier considered to be the main competitor of credit unions. CUs have a huge opportunity to demonstrate that they have a deep understanding of their customers and can meet them where they are with the bundles they need.
Moments of life stage
UCs and traditional financial institutions often struggle with needs-based segmentation. There are many root causes that explain why UCs and banks have siled datasets into individual departments. "Many credit unions have 500 salespeople; they have processes that aren't quite linked or architectured in an integrated way, "Paxson explained.
If a CU focuses on the daily lifestyle of a member, it will generate more activity and usage to help inform the activation of the customer's life stage, or the beginning of the life cycle. of a client. "One informs the other: Daily lifestyle engagement informs life stage engagement," Paxson explained. For example, if the CPU can get the customer's business for payments, it can also get it for loans; one is a sales engine for the other.
However, CUs have many vendors and different departments that focus on individualized activities for members, and it can be difficult to cross all of these paths and then connect them together. CO-OP has been in the access and convenience business for 40 years and has acquired a large data pool spanning many sets of solutions. This allowed him to collaborate with the CUs and put that data and information into action.