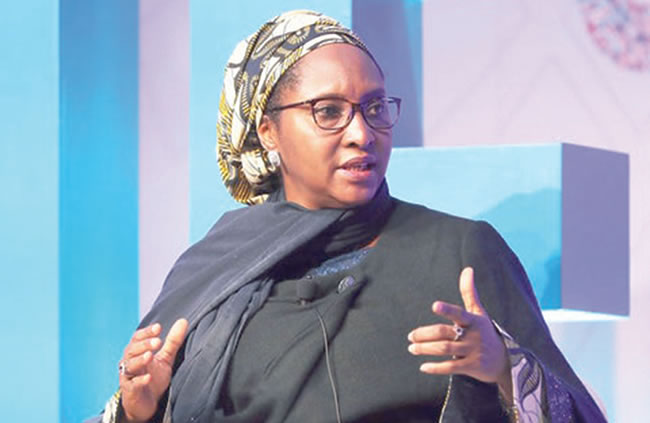 Apprehension as FG woo investors over naira 2.472 billion loans
As a federal government delegation led by Minister of Finance, Budget and National Planning, Ms. Zainab Ahmed prepares for an international tour for $ 3 billion Eurobonds, experts have expressed the need to 'move slowly.
At the end of March of this year, the federal government owed 26.91 trillion naira out of the total conventional public debt of 33 trillion naira.
The amount was in addition to the long-owed overdrafts of N15.5 trillion that it took from the Central Bank of Nigeria (CBN) and that it expressed its intention to turn into a long-term instrument. With existing conventional foreign and domestic loans of N26.91 trillion, debt servicing in the first five months of the year swallowed up 97% of its overall income.
In 2020, the government took out a nonconcessional facility of $ 3.5 billion from the International Monetary Fund (IMF) which it would be required to repay in full in eight quarterly installments starting in the third quarter of 2023. Eminent economic experts, Financial and commercial investors, however, warned of the dangers inherent in FG's growing appetite for loans to finance its budgets, instead calling for a public-private partnership (PPP) model for infrastructure financing.
On October 13, a delegation from the Federal Government (FG) led by the Minister of Finance, Budget and National Planning, Ms Zainab Ahmed, will embark on a world tour to convince investors to invest in her proposed Eurobond of 3 billion dollars, needed to partially finance its 2021 budget deficit.
At a press conference last week, the minister also said the government plans to raise an additional $ 3 billion through multilateral and bilateral borrowing to finance the budget deficit.
According to her, "we have approval in the 2021 budget to finance the budget deficit 50% locally and 50% outside. We plan to do about half of this in Eurobonds and the other half through other windows such as multilateral and bilateral sources. "
On July 7, the National Assembly approved an external borrowing of about $ 6.2 billion to finance half of the total loan needs for the 2021 budget, a loan request of 2,343 naira and 8.3 billion. of dollars and 490 million euros.
Due to mostly declining and sometimes static revenues in the face of growing responsibilities since 2015, the federal government has increasingly resorted to borrowing over the years. If borrowing is necessary to support the economy, sustainability transparency and a sustainable repayment plan are essential.
At the end of March 2021, the total public debt stood at $ 87.2 billion (33.107 trillion naira), while FG's share stood at 26.91 trillion naira. to various creditors.
The medium-term expenditure framework and the 2015 Federation Budget Office (BoF) budget strategy paper showed that the administration led by Buhari incurred a domestic debt of 7.63 billion naira between June 2015 and December 2020.
In 2020, FG's budget deficit was around four percent of GDP, clearly in breach of the Fiscal Responsibility Law, which sets a limit of three percent.
The N26.9 trillion is excluding the N15.51 billion overdrafts he contracted with the Central Bank of Nigeria. 2,800 billion naira were withdrawn in 2020.
A senior economist for the Nigerian Economic Summit Group (NESG), Wilson Erumebor said that "when we include AMCON's liabilities and CBN ways and means, the debt (total public debt, estimated at over 33,000 billion naira) could amount to around 48.7 trillion naira, which is about 32% of GDP. "Debt to GDP may seem quite low at 32%, we have to understand that debt servicing is provided by income, so if debt servicing goes up and income is not performing, then we have a problem. "
For many years, government officials have insisted that borrowing is essential to finance the necessary infrastructure, which in turn would help create jobs.
They also argue that the projects would eventually pay off those loans. In a briefing at the State House earlier this year, Ahmed said "it will be helpful to review each year's budget; look at the expenses. If you take out new loans, how big will the budget be? There will be a lot of capital projects that will be affected. We must consider that borrowing is used to support infrastructure development. Otherwise, there will be a challenge.
In addition, Senate Speaker Dr Ahmad Lawan insisted that Nigeria must continue to borrow to finance critical projects.
He said: "You cannot, in my opinion and in my opinion, tax Nigerians more so that you can raise funds for infrastructure development. Other countries are doing it, but we have a serious situation across the country. Our options are very limited as a country: first we do not have the necessary income; Nigeria is poor; we shouldn't kid ourselves. Our resources are so low, our income is so low, and the option of doing nothing and sitting still is not an option worth considering. You cannot keep the economy stagnant. The other option is probably the private partnership. What I want to assure Nigerians is that we are not going to frivolously support or approve loans for the executive branch of government. "
However, an analysis of the 2020 and half-yearly 2021 budget performance found that the government borrowed to finance almost all of its budget, including salaries, overheads, and debt service.
In its analysis of the 2020 budget execution, BudgIT, a civic technology nonprofit, reported that the government had spent 3.34 trillion naira on debt service on the 3.42 trillion naira. in revenue it generated in 2020 when its total expenditure stood at N10.01 trillion.
"This means that almost all of FG's salaries, overheads and CAPEX (capital expenditures) have been funded by loans and support from the CBN," the civic group said. He noted that 4.65 trillion naira was spent on non-debt recurrent spending.
"In 2020, FG forecast total revenue of 5.37 trillion naira; however, the actual total revenue ultimately amounted to 3.42 trillion naira. This represents a turnover of 63.71 percent. The cost of servicing FG's debt is drowning Nigeria as the cost continues to rise, swallowing up a total of 3.34 trillion naira (97%) of total income. "
The ten period under review. In a presentation of the 2021 budget, the finance minister revealed that of the total of 4.86 trillion naira spent during the period, 1.8 trillion naira was for debt service (37% of government spending). FGN), 1.5 trillion naira for personnel costs including pensions (31 percent of FGN revenue) and 973.13 billion naira have been released for capital expenditure.
However, experts continued to warn of the dangers inherent in the continued accumulation of debt.
Former CBN Deputy Governor Dr Kingsley Moghalu urged officials to consider the option of public-private partnership (PPP) for infrastructure development to reduce borrowing.
"This massive borrowing, and the infrastructure investment that was used to justify it, has significantly underperformed. Public-private partnerships should be the dominant approach to infrastructure development in a country like Nigeria, instead of contract awards which, according to available information on comparable projects in countries like Ghana and Ethiopia , are at best overvalued and, at worst, grossly inflated at their expense.
He warned that "we need to stop borrowing more and start managing current obligations in order to avoid a sovereign debt default or, at best, costly restructuring. New borrowing will cause the debt bubble to burst catastrophically. As an alternative to debt, the government must focus on increasing domestic revenue, by broadening the tax base – not increasing tax rates as has been done with value added tax (VAT). – and by introducing reforms to facilitate the payment of taxes while eliminating multiple taxation.
From the perspective of political economist Professor Pat Utomi, "the direct implication is that any additional money the government spends comes from additional borrowing; what this means is that the borrowing will increase. And because I don't see any serious program to cut or moderate spending, it means we're going to borrow at the amount of our budget projections.
"We are in great difficulty in the country because our debt is not sustainable at the moment. It has been said over and over again; we shouldn't borrow for consumption unless we see a tax increase. FG needs to change the wording of how we borrow. We should only borrow to develop value-creating assets and those value-creating assets should be managed in the most efficient way by the hands of the private sector, then you can tax the gains from those investments. This is really how you can pay off those debts, but when we're not focusing on production but always looking to drive income, we get into huge debt servicing issues. "
For Uche Uwaleke, professor of finance at Nassarawa State University, "borrowing for infrastructure is not a bad idea. There is no doubt that there has been a notable improvement in transport infrastructure, especially rail. The challenge is that government revenues have fallen short and the debt service burden has therefore continued to increase, crowding out development funds. Faced with this difficult situation, the government is advised to involve the private sector more in the provision of physical infrastructure while effectively deploying scarce resources for the development of human capital.
Also contributing to the debate, the former Director General of the Lagos Chamber of Commerce and Industry (LCCI) called for "a comprehensive review of the debt management framework. This would require careful consideration of public spending and revenue optimization options. Of course, there is merit in borrowing to finance infrastructure, but it is also a problem if our real revenues can hardly cover our recurrent expenses. The situation calls for major spending reforms, particularly around the cost of governance. Policy and regulatory reforms are also imperative to boost investor confidence, accelerate growth and have a positive impact on incomes and job creation.